FASET (Fall Arrest Safety Equipment Training) is proud to announce it is now accredited as a Type C inspection body in accordance with International Standard ISO/IEC 17020:2012 – making it the only trade association in the UK to achieve this UKAS standard within the SSIP member scheme.
As the UK's leading trade association and training body for the safety netting and temporary safety systems industry, FASET is dedicated to achieving the highest standards of safety, with the ultimate aim of preventing falls from height.
In becoming a UKAS accredited association, principal contractors, clients and members of FASET have the added reassurance that the audits and inspections carried out by FASET's specialist team are of the highest possible standard.
FASET is also an SSiP (Safety Schemes in Procurement) registered member. That means the FASET annual audit – for qualifying member organisations – asks 130 specific questions on the disciplines it governs – including the SSiP core question set.
Put safety and best practice first
FASET strongly recommends that any employer working with the following temporary safety equipment should insist on FASET SSiP certificates from contractors before allowing them to tender for and undertake work on their sites:
Safety Netting
Edge Protection
Stair Towers
Roof Over-Netting
Tensioned Access Platforms
Platform Decking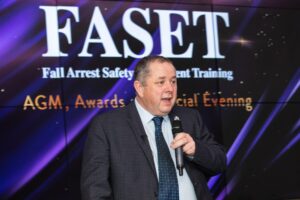 Tony Seddon, FASET's managing director, said: "Working with FASET and hiring FASET members is the best way of guaranteeing safety and best practice on site at all times. Our logo is already a mark of distinction for any business working at height – it is a positive declaration of professional intent and a promise of quality that reinforces our pledge of unparalleled safety and service. The UKAS accreditation is a culmination of a lot of focused work that recognises the global importance and standing of our members' work. We are delighted to carry the UKAS hallmark of quality alongside our own brand. It is a very proud day for everyone here at FASET."
Contact FASET for more information or visit www.faset.org.uk/all-members/ to see the full list of FASET members.
enquiries@faset.org.uk | 01948 780652